Victoria Sanchez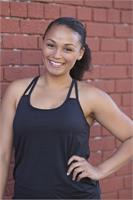 A San Diego Native, Victoria moved to Los Angeles to attend CSUN, where she earned her Bachelors and Masters degrees in linguistics. Due to the stress of school, a friend invited her to a yoga class where she immediately fell in love with her yoga mat. From there, Victoria found time everyday for her yoga practice. Making it to her mat everyday became more than just getting in a good sweat, it's where she began to find her edge, clear her mind, and she shed layers to grow into the person she is today. When she began to take the fundamentals of yoga and use them off her mat, she decided to complete her 200 hour power teacher training with Corepower Yoga in 2013. Loving to learn and loving to teach, this was the natural next step in her growing yoga journey. When Victoria's not teaching yoga, you can find her teaching English as a second language, on her mat, telling stories, out on a hike, at the beach, or just enjoying this city in one way or another.
Victoria Sanchez instructs the following:
Warrior Flow 2. Offered in the hot yoga room and the non-heated yoga room. Looking for the yoga class to get energized while helping you build strength and flexibility? This upbeat, creative yoga practice, seamlessly linking breath and movement, will keep you present as you learn to move gracefully in and out of poses. Utilizing Sun Salutations, strength building and connected movements, Warrior Flow 2 will build endurance and help you stay present and centered. Great for the more experienced yogi.




Warrior Flow 1 - Good choice for beginners. Offered in the hot yoga room and the non-heated yoga room. Warrior Flow 1 is a slower-paced vinyasa flow class geared towards those new to yoga or prefer a slightly gentler class. Unroll your yoga mat for an invigorating full-body flow where you'll explore the yoga postures and fundamental principles of Vinyasa yoga. You'll flow continuously through strong sequences of traditional Sun Salutations and standing postures, linking breath with movement and building confidence and strength as you push the edge of your balance and flexibility.