Andy Crown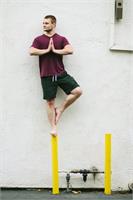 Like many, Andy found his mat for the first time at a challenging time in his life. From his first practice he fell in love. Yoga would prove to be an important part of his recovery from drug and alcohol addiction. He came to enjoy the opportunity to move gracefully on the mat and apply the principles of yoga to his life so that he could live gracefully off the mat as well.
Andy Crown instructs the following:
Tween Warrior (9-14 Years) - Offered in the non-heated yoga room. In a world so complicated with technology and stress, Tween warrior is the perfect place for a teen to achieve a calm and balanced mind, while building strong and flexible bodies. This upbeat, creative yoga practice, seamlessly linking breath and movement, will keep the teen present as they learn to move gracefully in and out of poses. Learning breath and movement mediation the teen will take what they learn from the mat and use it in their daily lives. This class is highly recommended for teen athletes.




Tranquil Warrior. Offered in the hot yoga room and the non-heated yoga room. Reboot and rebuild with a series of holding postures that focus on stretching and breathing. This class is designed to alleviate soreness, work the connective tissues in your body and give your mind a well-deserved moment of reflection and relaxation. Restorative yoga is about healing the mind and body through simple poses often held for a longer time, with the help of props such as block, pillows and straps.