Kari Cowell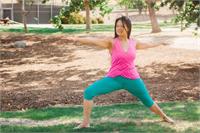 Hi! I'm Kari and I'm originally from Wisconsin. I started practicing yoga 6 years ago when I worked a full time, high paying job and attended acting school full time. I needed a way to destress! When I moved to L.A. in 2014 to start my acting career, a dear friend of mine introduced me to hot yoga. It was love at first Savasana! A year after moving to L.A., one of my favorite teachers suggested I enroll in teacher training. With a gentle nudge and tons of support from my mentor, I decided to take the leap into teaching yoga! I have been teaching full time since 2016 and am certified in Power Yoga (200 hours), Yoga Sculpt, and Yoga for Traumatized Populations. I also teach Vinyasa, restorative, and kids yoga, and I am a certified advanced Reiki practitioner. In May 2018, I will be traveling to India to receive my 300 hour advanced yoga teacher training. There are too many words to express how much this beautiful practice has affected my life. I hope to create a safe space for my students to explore their practice and make it uniquely their own, as well as inspire a life long curiosity and love for yoga, health, and wellness. I love connecting with each and every single one of my students, and would be overjoyed to grab a tea with you to talk about yoga, life, the Universe, and everything!
Kari Cowell instructs the following:
Sculpted Warrior. Offered in the hot yoga room and non-heated yoga room. Rock out to upbeat tracks as you boost metabolism and build lean muscle mass. You'll combine the Warrior Flow 2 sequencing with free weights and cardio to intensify each yoga pose while mixing in strength-training moves like squats, lunges, planks and bicep curls. This dynamic resistance-training yoga method uses compound movement with your own bodyweight, weights, blocks, bands and sliders to provide a full body workout.




Exalted Warrior. Set sequence. Offered in the hot yoga room. With a series of specific yoga postures performed in systematic order, Exalted Warrior blends the detoxifying and meditative qualities of hot yoga with the intensity of power yoga. This harmonious practice strengthens the mind and body and when performed consistently deepens ones yoga practice. Exalted Warrior works to detox your body, strengthen your muscles and increase flexibility and balance.