Jimena Tobon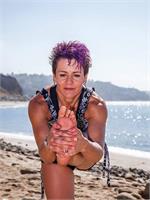 My deep passion for fitness led me to begin practicing yoga over 10 years ago. As I began my Hot Vinyasa Flow Yoga Teacher Training, I quickly learned that there are significantly more important gains from practicing yoga than just the physical ones. In order to expand my knowledge of yoga's inherent mind-body-soul connection, I enrolled and completed the 500-Hr Teacher Training at YogaWorks. Taking part in this professional program involved active participation in workshops, lectures, as well as an apprenticeship program. The person with whom I undertook my apprenticeship, Lainie Devina, is my role model and continues to be my inspiration as I trek along my effortful journey to become a better yogi. My classes are carefully planned as observing students' bodies and adjusting their poses as needed is part of my teaching routine. My energetic and enthusiastic demeanor as a Yoga Instructor is reflected in my teaching methods, as well as in the way in which I communicate with others. I am grateful to share something that I am passionate about with other people.
Jimena Tobon instructs the following:
Warrior Flow 2. Offered in the hot yoga room and the non-heated yoga room. Looking for the yoga class to get energized while helping you build strength and flexibility? This upbeat, creative yoga practice, seamlessly linking breath and movement, will keep you present as you learn to move gracefully in and out of poses. Utilizing Sun Salutations, strength building and connected movements, Warrior Flow 2 will build endurance and help you stay present and centered. Great for the more experienced yogi.




Warrior Flow 1 - Good choice for beginners. Offered in the hot yoga room and the non-heated yoga room. Warrior Flow 1 is a slower-paced vinyasa flow class geared towards those new to yoga or prefer a slightly gentler class. Unroll your yoga mat for an invigorating full-body flow where you'll explore the yoga postures and fundamental principles of Vinyasa yoga. You'll flow continuously through strong sequences of traditional Sun Salutations and standing postures, linking breath with movement and building confidence and strength as you push the edge of your balance and flexibility.




Sculpted Warrior. Offered in the hot yoga room and non-heated yoga room. Rock out to upbeat tracks as you boost metabolism and build lean muscle mass. You'll combine the Warrior Flow 2 sequencing with free weights and cardio to intensify each yoga pose while mixing in strength-training moves like squats, lunges, planks and bicep curls. This dynamic resistance-training yoga method uses compound movement with your own bodyweight, weights, blocks, bands and sliders to provide a full body workout.