Camryn Mackey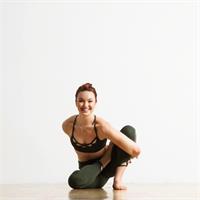 Camryn began her yoga journey after moving from Seattle to pursue her passion for dance. She began taking yoga classes and shortly after found herself very drawn to the community Los Angeles provided. With the inspiration from the people she was surrounded by, she felt she had found walls she wanted to be within every single day. Like most, Camryn found herself addicted to the physical practice she was receiving and in due time found the balance and importance of the mental practice as well. With the help of this, Camryn decided to complete two 200 hour yoga certification programs as well as Hot Mat Pilates training. She currently teaches in both Hollywood and Playa Vista and is very excited to be starting with WARRIOR&CO.! She is eager to help share her knowledge and passion for yoga and hot mat pilates as she watches not only her own journey continue but the ones around her as well!
Camryn Mackey instructs the following:
Hot Mat Pilates. Offered in the hot yoga room. Hot Pilates strengthens muscles and burns fat — all without the pounding of a high impact workout. Using Pilates principles, Hot Mat Pilates is a challenging, full body, low impact, high intensity workout. Your entire core, glutes, and upper body will receive special attention. This energetic class is paired up with up-beat music to keep you motivated. Not to mention health and flexibility of the spine to train your muscles to work together; which will lead to good posture & strength throughout your body. It is performed on a yoga mat in a heated environment.




Exalted Warrior. Set sequence. Offered in the hot yoga room. With a series of specific yoga postures performed in systematic order, Exalted Warrior blends the detoxifying and meditative qualities of hot yoga with the intensity of power yoga. This harmonious practice strengthens the mind and body and when performed consistently deepens ones yoga practice. Exalted Warrior works to detox your body, strengthen your muscles and increase flexibility and balance.