Ericka Ratcliff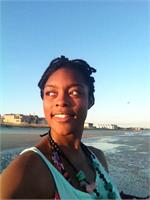 Originally hailing from Baltimore MD. Ericka (RYT 200 hr.) was first introduced to yoga as a stressed out teen. Yoga and meditation was always an outlet she returned to, to give her peace of mind and perspective through tough times. Ericka is always learning from and encouraging her students through breath, alignment, and curiosity to experience their best yoga life. Acknowledging that everyones path and intentions are different, Ericka loves to teach students asana as a tool of self care for the ever changing and demanding lives we lead. Get on your mat and give it up... for yourself.
Ericka Ratcliff instructs the following:
Warrior Flow 2. Offered in the hot yoga room and the non-heated yoga room. Looking for the yoga class to get energized while helping you build strength and flexibility? This upbeat, creative yoga practice, seamlessly linking breath and movement, will keep you present as you learn to move gracefully in and out of poses. Utilizing Sun Salutations, strength building and connected movements, Warrior Flow 2 will build endurance and help you stay present and centered. Great for the more experienced yogi.