Cat Macary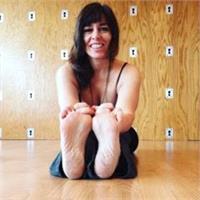 Cat Macary is a registered yoga teacher with over 14 years of teaching. Cat was first certified in 2003 with Vinyasa Flow 200 HR Teacher Training in the Jivamukti Lineage. She then upgraded her skills with Pre and Post-Natal Yoga with The Khalsa Way through Golden Bridge School of Yoga with Gurmukh Kaur Khalsa; Indigo Kids Yoga teacher training; Urban Zen Integrative Therapy training and recently completed the 300 Hour Professional Program through YogaWorks. Cat also loves to share her expertise as a wellness educator teaching families how to enhance their health and enjoy vibrant living using nutrition and essential oils. Cat infuses every class with safe and creative sequencing, compassionate support for each students journey on and off of the yoga mat as well as complete mind-body-spirit harmony.
Cat Macary instructs the following:
Senior Warrior. Offered in the non-heated yoga room. Aimed with knowledge of the medical conditions of the class participants and the ability to modify poses to accommodate each participant's health circumstances, our well-informed Yoga instructors guide seniors through gentle movement and stretching. Teaching them to breathe and move on their mat will help them breath and move off the mat. Yoga for seniors has many health benefits such as reducing swelling in joints while increasing joint mobility and improves balance and strength.




Tranquil Warrior. Offered in warm yoga room. Reboot and rebuild with a series of holding postures that focus on stretching and breathing. This class is designed to alleviate soreness, work the connective tissues in your body and give your mind a well-deserved moment of reflection and relaxation. Restorative yoga is about healing the mind and body through simple poses often held for a longer time, with the help of props such as block, pillows and straps.