Rachel Wilson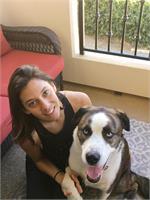 My yoga journey began as a way to live a more meaningful and mindful life. As a flight attendant, I have found that yoga not only keeps me grounded while I'm away from home, but also helps manage my stress and anxiety. I believe that yoga should be accessible to everyone and should be met with compassion as well as discipline. While looking to deepen my own personal practice I found Kaya Yoga Remedy (formerly Underground Yoga) a studio in Huntington Beach where I received my 200 hour teacher training under the instruction of the incredible husband and wife duo Gilbert and Ashley Naungayan. I like to integrate my knowledge of Hatha yoga with the teachings of B.K.S. Iyengar to build classes based around proper alignment and breath control. I encourage my students to use props and focus on their karma yoga - the path of action without attachment to the result. My goal is to create an environment that not only allows for growth in your yoga practice, but also in your life. I look forward to teaching and sharing this space with each and every one of you! Namaste.
Rachel Wilson instructs the following:
Warrior Flow 1 - Good choice for beginners. Offered in the hot yoga room and the non-heated yoga room. Warrior Flow 1 is a slower-paced vinyasa flow class geared towards those new to yoga or prefer a slightly gentler class. Unroll your yoga mat for an invigorating full-body flow where you'll explore the yoga postures and fundamental principles of Vinyasa yoga. You'll flow continuously through strong sequences of traditional Sun Salutations and standing postures, linking breath with movement and building confidence and strength as you push the edge of your balance and flexibility.




Warrior Flow 2. Offered in the hot yoga room and the non-heated yoga room. Looking for the yoga class to get energized while helping you build strength and flexibility? This upbeat, creative yoga practice, seamlessly linking breath and movement, will keep you present as you learn to move gracefully in and out of poses. Utilizing Sun Salutations, strength building and connected movements, Warrior Flow 2 will build endurance and help you stay present and centered. Great for the more experienced yogi.