Christina DeRonde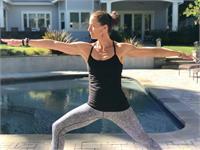 Christina, a lifelong fitness enthusiast, lives in Encino with her husband, kids and 2 dogs. A former film industry marketing manager, Christina has spent the last
18 years as an at home parent and volunteering full time for their schools. During those years, she trained and raced in over 50 triathlons including Olympic, Half Iron and Iron distance events. Yoga was a mainstay of her athletic
diet to maintain optimal physical, mental and emotional health in those busiest, most active years of parenting and racing. Yoga continues to bring balance and wellness to Christina who seeks to share yoga and all of the benefits with the
world, particularly today's teenagers whose lifestyles are demanding in a myriad of ways. Helping our community, especially our youth, build yoga practices for flexibility, strength, self-regulation and inner peace now and for all their tomorrows is Christina's goal.
Christina DeRonde instructs the following:
Exalted Warrior. Set sequence. Offered in the hot yoga room. With a series of specific yoga postures performed in systematic order, Exalted Warrior blends the detoxifying and meditative qualities of hot yoga with the intensity of power yoga. This harmonious practice strengthens the mind and body and when performed consistently deepens ones yoga practice. Exalted Warrior works to detox your body, strengthen your muscles and increase flexibility and balance.




Sculpted Warrior. Offered in the hot yoga room and non-heated yoga room. Rock out to upbeat tracks as you boost metabolism and build lean muscle mass. You'll combine the Warrior Flow 2 sequencing with free weights and cardio to intensify each yoga pose while mixing in strength-training moves like squats, lunges, planks and bicep curls. This dynamic resistance-training yoga method uses compound movement with your own bodyweight, weights, blocks, bands and sliders to provide a full body workout.