Nikki Norenberg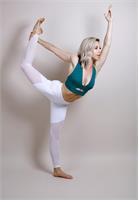 Nikki found her passion for yoga after many years of dancing and needing a place to disconnect from her mind and give back to her body. Yoga immediately felt like home to Nikki and she could not wait to learn more about the practice. She received her certification with Corepower Yoga's 200-hour Power Teacher Training program and began teaching immediately throughout the San Fernando Valley. With a charismatic spirit, Nikki is known to create a fun and enjoyable class environment while also deeply challenging her students on both a physical and mental level. Her depth of knowledge in dance and body awareness directly ties to her passion for yoga by helping students tap into a deeper understanding of the movement of their bodies. Nikki is a proud Minnesota native who currently lives in Sherman Oaks, California where she appreciates the sunshine daily!
Nikki Norenberg instructs the following:
Warrior Flow 2. Offered in the hot yoga room and the non-heated yoga room. Looking for the yoga class to get energized while helping you build strength and flexibility? This upbeat, creative yoga practice, seamlessly linking breath and movement, will keep you present as you learn to move gracefully in and out of poses. Utilizing Sun Salutations, strength building and connected movements, Warrior Flow 2 will build endurance and help you stay present and centered. Great for the more experienced yogi.