Caroline Vuchetich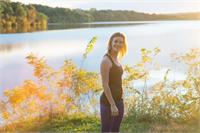 200 RYT Caroline got her yoga teaching certificate in 2014 in Kansas City through Sid Yoga. She trained and taught a Baptiste inspired practice at the same studio for four years. Now that she is living the Cali life she is happy to be apart of the warm WARRIOR&CO. tribe. Her classes are full of upbeat songs, quick cues, high fives, OMs, and your favorite hip openers. Before teaching yoga Caroline ran the Paris Marathon, all of the Kansas City trails, and many other races. It was actually a running injury that got her full swing into yoga - so, if you need a modification due to pain or injury she's been there and can help you out! When she's not teaching power yoga, Caroline teaches kids 18 months old through high school where her past teaching and storytelling experience really come to life. Off the mat Caroline hikes, camps, enjoys a glass of wine, the beach, and a good movie after a crazy sweat. Caroline hopes to help all students release what does not serve them, come back to the present moment, and have fun.
Caroline Vuchetich instructs the following:
Warrior Flow 2. Offered in the hot yoga room and the non-heated yoga room. Looking for the yoga class to get energized while helping you build strength and flexibility? This upbeat, creative yoga practice, seamlessly linking breath and movement, will keep you present as you learn to move gracefully in and out of poses. Utilizing Sun Salutations, strength building and connected movements, Warrior Flow 2 will build endurance and help you stay present and centered. Great for the more experienced yogi.