Lindsay Fulton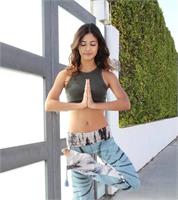 Lindsay Fulton began practicing yoga in college to maintain a healthy physical and mental wellbeing. Having been a dancer her whole life and after establishing herself as a professional dancer in LA, Lindsay found an escape from the cerebral demands of UCLA and her dance career in the yoga studio. Over the years, her practice has truly evolved from being a student to completing her yoga certification with Corepower and becoming a teacher. Lindsay encourages her students to find deeper meaning behind movement and hopes to share her love for community, music, and movement in her classes.
Lindsay Fulton instructs the following:
Warrior Flow 2. Offered in the hot yoga room and the non-heated yoga room. Looking for the yoga class to get energized while helping you build strength and flexibility? This upbeat, creative yoga practice, seamlessly linking breath and movement, will keep you present as you learn to move gracefully in and out of poses. Utilizing Sun Salutations, strength building and connected movements, Warrior Flow 2 will build endurance and help you stay present and centered. Great for the more experienced yogi.




Sculpted Warrior. Offered in the hot yoga room and non-heated yoga room. Rock out to upbeat tracks as you boost metabolism and build lean muscle mass. You'll combine the Warrior Flow 2 sequencing with free weights and cardio to intensify each yoga pose while mixing in strength-training moves like squats, lunges, planks and bicep curls. This dynamic resistance-training yoga method uses compound movement with your own bodyweight, weights, blocks, bands and sliders to provide a full body workout.