Morgan Kaczor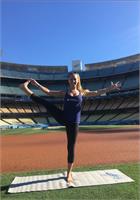 200 Hour RYT, Yoga Sculpt Certified, Kids Yoga Certified.
Morgan graduated from California State University Long Beach with a BA in Child Development and Family Studies and a minor in Dance. Throughout her college career she worked as a teacher in the Child and Family Center, taught dance to children and continued to return back to Summer Camp in Los Angeles as a Director for 12 years. After graduating college, she went on to become the Assistant Director at My Gym Fitness Center in Manhattan Beach, developing and facilitating programs to help children 6 weeks to 15 years develop physically, cognitively and emotionally. Morgan spent the 2012-2013 school year in Israel as a volunteer through the Israel Teaching Fellowship, teaching English to students in 1st-6th grade. Morgan has always been an athlete and her love for movement and meditation continued as she decided to further her knowledge and practice by studying to receive her Yoga Teacher certification. Yoga, for Morgan, is the "owners manual" to living the brightest version of oneself. Morgan's passion for yoga has pushed her to a greater understanding of herself and sparked a fire within to share the use and benefits of yoga, with intent, as a tool for true healing and happiness for everyone. Morgan's class is full of positive energy, a powerful flow and rockin' beats. Morgan hopes to give students of all ages an opportunity to expand themselves both on and off the mat.
Morgan Kaczor instructs the following:
Warrior Flow 1 - Good choice for beginners. Offered in the hot yoga room and the non-heated yoga room. Warrior Flow 1 is a slower-paced vinyasa flow class geared towards those new to yoga or prefer a slightly gentler class. Unroll your yoga mat for an invigorating full-body flow where you'll explore the yoga postures and fundamental principles of Vinyasa yoga. You'll flow continuously through strong sequences of traditional Sun Salutations and standing postures, linking breath with movement and building confidence and strength as you push the edge of your balance and flexibility.




Tween Warrior (9-14 Years) - Offered in the non-heated yoga room. In a world so complicated with technology and stress, Tween warrior is the perfect place for a teen to achieve a calm and balanced mind, while building strong and flexible bodies. This upbeat, creative yoga practice, seamlessly linking breath and movement, will keep the teen present as they learn to move gracefully in and out of poses. Learning breath and movement mediation the teen will take what they learn from the mat and use it in their daily lives. This class is highly recommended for teen athletes.




Sculpted Warrior. Offered in the hot yoga room and non-heated yoga room. Rock out to upbeat tracks as you boost metabolism and build lean muscle mass. You'll combine the Warrior Flow 2 sequencing with free weights and cardio to intensify each yoga pose while mixing in strength-training moves like squats, lunges, planks and bicep curls. This dynamic resistance-training yoga method uses compound movement with your own bodyweight, weights, blocks, bands and sliders to provide a full body workout.




Warrior Flow 2. Offered in the hot yoga room and the non-heated yoga room. Looking for the yoga class to get energized while helping you build strength and flexibility? This upbeat, creative yoga practice, seamlessly linking breath and movement, will keep you present as you learn to move gracefully in and out of poses. Utilizing Sun Salutations, strength building and connected movements, Warrior Flow 2 will build endurance and help you stay present and centered. Great for the more experienced yogi.




Hot Mat Pilates. Offered in the hot yoga room. Hot Pilates strengthens muscles and burns fat — all without the pounding of a high impact workout. Using Pilates principles, Hot Mat Pilates is a challenging, full body, low impact, high intensity workout. Your entire core, glutes, and upper body will receive special attention. This energetic class is paired up with up-beat music to keep you motivated. Not to mention health and flexibility of the spine to train your muscles to work together; which will lead to good posture & strength throughout your body. It is performed on a yoga mat in a heated environment.